Attention educators, parents, and all of those magical people who are both educators AND parents! The learning tool of the future is here and let me tell you, it rocks! It's a customizable experience like no other.
I'm pumped to introduce you to Your Face Learning!
Your Face Learning is an app that allows young learners to fully immerse themselves into what they're learning. Through the use of your iPhone or iPad's camera, you can snap a picture of your child or student and, just like that, his or her face is automatically added to a massive amount of category-specific early learning worksheets that can be printed out.
Wow! Just. WOW!
For example, let's say I'm a child and I'm working on my alphabet. And let's say on this particular day that I'm specifically learning about the letter "E." Well, thanks to Your Face Learning, I now have access to the "Letters" category within the app that contains the following awesome worksheet:
Yes, that indeed is me riding on the back of an elephant!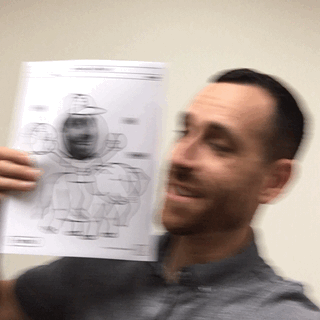 And because I'm learning all about the letter "E," it's no coincidence that I'm holding an egg and the planet Earth. Oh, and did you notice my baseball hat? Yup, there's a capital "E" on that. And did you notice my shirt? Yup, there's a lowercase "e" on that. Pretty cool, huh?
Seeing your face in your worksheet is POWERFUL!
In my experience, the ability to see yourself in the finished products that Your Face Learning creates, well, it facilitates an emotional connection to the content, and it all really does trigger immediate and enhanced learning!
It's easy and intuitive: after only a few taps on your device, your young learner will be riding elephants in no time!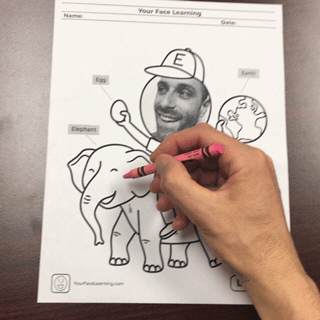 So what are you waiting for?
Your Face Learning is free to try. Head on over to HERE. If you love it and want full access to the growing number of early learning worksheets, you can start a monthly subscription. Dozens of new worksheets are being added each month!
Want to be notified when a new blog post goes live? Join my newsletter and I'll let ya know!