Welp, my latest speech therapy app is now live and I'm beyond excited. It's called Sticker Picture Articulation and it has to do with exactly what you think it has to do with . . . STICKERS! In short, Sticker Picture Articulation gives a youngster the opportunity to snap a photograph of his or her surroundings and, with a few taps; they can add a number of sound-specific stickers right on top of the photograph to create their very own articulation-specific picture!
Articulation-specific picture?! What do you mean?!
Well, let me walk you through the app so you can see how cool Sticker Picture Articulation is. First, you snap a picture of anything you want through the app. Like, let's pretend that this is your speech therapy room:
Then, as seen below, the app will direct you to choose your target articulation sound (pick from S, Z, R, L, S/R/L Blends, SH, CH, or TH).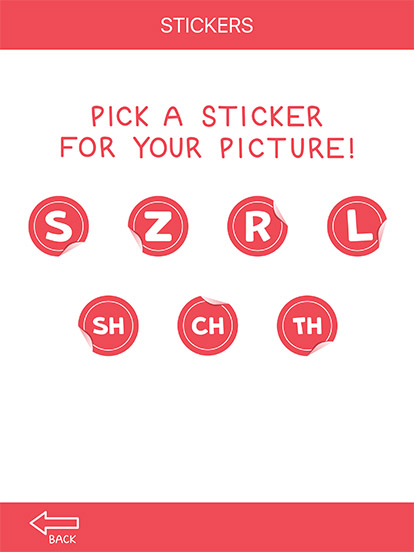 Next, let's choose the /S/ sound at the initial position of words. As you see below, the app brings you over to a bunch of initial /S/ stickers that can be placed on top of the photo you took. Scroll up and down to see all the stickers!
Once you find a picture that tickles your fancy, all you have to do is tap the "ADD" button and BAM! You now placed the 'sandwich' sticker on that photo you took!
And you don't have to stop at just that one 'sandwich' sticker. Sticker Picture Articulation allows you to add as many stickers as you want. So go nuts with your articulation-specific picture! Stickers galore! Woo hoo!
Oh! So THAT'S what an articulation-specific picture is?! That's so cool!
You bet it's cool! Dare I say that this is one of the coolest speech therapy apps out there. And I know, I know, I'm the one who created the thing, so yes, I'm totally biased. But really though, this speech therapy app is oodles of fun and it really get's children excited to practice their articulation.
App highlights:
A child-friendly interface: simple and intuitive, a wonderful experience from start to finish!
Tons of sound-specific stickers: with just a tap of a finger, children and clinicians can instantly add one of over 450 sound-specific stickers directly to their photo!
Loads of giggles: before, during, and after each sticker picture is created, oodles and oodles of laughter will fill the speech therapy room!
A spectacular save feature: after looking at and talking about your sticker picture, tap the Save button to save it directly to your device's camera reel!
The power of pictures!
I invite you to use Sticker Picture Articulation to spice up your speech therapy sessions. All of the sound-specific stickers are intended to initiate excitement and humor. And in all honesty, each articulation-specific picture you or your clients create has the potential to spark conversations that could lead almost anywhere. Even an articulation-specific picture that appears simple can trigger a unique thought that surprises all parties involved.
In closing . . .
So what are you waiting for? Let your imagination run wild and have fun with this one of a kind digital speech therapy material! More information about this app can be found right HERE.