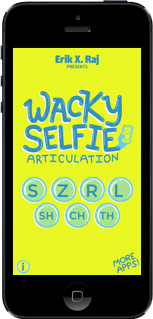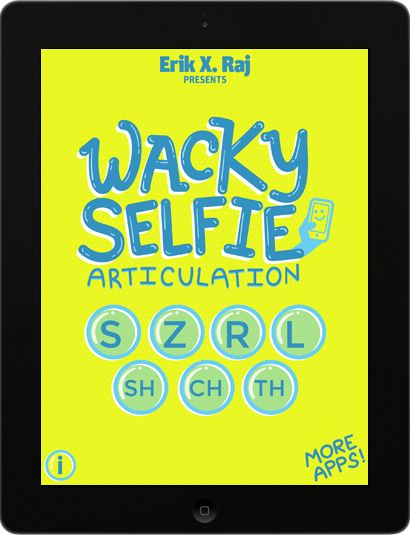 Wacky Selfie Articulation is a comprehensive collection of over 450 hilarious sound-specific stickers that can be placed on top of a selfie photo to turn a regular selfie into a wacky one. Designed for speech-language pathologists, this photo-based app was made to be used with youngsters who exhibit difficulty producing the following speech sounds: S, Z, R, L, S/R/L Blends, SH, CH, and TH. It is intended to aid in the remediation of articulation impairments, as well as auditory and language difficulties because students often need practice in more than one area of communication.
This speech therapy app features:
A child-friendly interface: simple and intuitive, a wonderful experience from start to finish!
Tons of sound-specific stickers: with just a tap of a finger, children and clinicians snap a selfie and instantly add one of over 450 sound-specific stickers directly on top of their heads!
Loads of giggles: before, during, and after each selfie is taken, oodles and oodles of laughter will fill the speech therapy room!
A spectacular save feature: after looking at and talking about the selfie, tap the Save button to save the photo directly to the device's camera reel!
Information:
Like it or not, 'selfie photos' are now a modern fact of life and people of all ages enjoy taking selfies. The iconic self-portraiture has been finding it's way into every aspect of daily living, so why not let selfies exist within the speech therapy room? Wacky Selfie Articulation takes advantage of camera technology to create a truly unique speech therapy experience for all students who love taking selfies. In short, Wacky Selfie Articulation gives a youngster the opportunity to snap a selfie of him or herself and, like magic; the application randomly adds a sound-specific sticker right on top of the student's head! This was done all in an effort to encourage the user to talk about the hilarious object that has been added to the selfie (thus, giving the youngster more opportunities to practice proper pronunciation and articulation strategies with caring communication partners).
The format of Wacky Selfie Articulation is a departure from traditional articulation drill materials and is effective for students ages 6 and up. Because of the personal selfie approach, students enjoy talking about the various photos of themselves with their friends and classmates outside of the speech therapy room, further practicing their communication skills and thereby facilitating the sometimes difficult stage of carrying over newly-acquired skills. By talking about the selfies with the youngster, paraprofessionals in the classroom and/or parents at home can reinforce the targeted articulation skills while sharing a fun activity. Practicing these skills in environments outside the speech therapy setting increases opportunities for generalization.
I invite you to use Wacky Selfie Articulation to spice up your speech therapy sessions. All of the sound-specific stickers are intended to initiate excitement and humor. And in all honesty, each selfie has the potential to spark conversations that could lead almost anywhere. Even a selfie that appears simple can trigger a unique thought that surprises all parties involved.
Regardless of when, where, or how Wacky Selfie Articulation is used within the speech therapy session, one thing is certain, children (as well as clinicians) will have a blast taking selfies and talking about them . . . and in the process, all of the youngsters will continue to practice the correct pronunciation of their sounds. So what are you waiting for? Let your imagination run wild and have fun with this one of a kind photo-based speech therapy material!
Screenshots:

Want to be notified when a new blog post goes live? Join my newsletter and I'll let ya know!