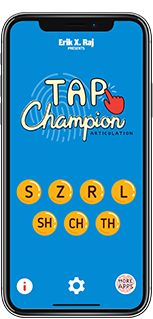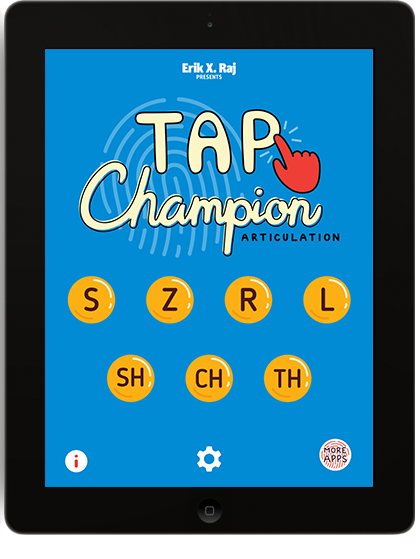 Tap Champion Articulation is a fast-paced and exciting addition to any speech-language therapy setting. This speech therapy game is jam-packed with over 450 sound-specific articulation pictures that can be unveiled if your fingers are quick enough. The goal of Tap Champion Articulation is to tap the screen as many times as possible in 10 seconds to see if you can reveal the hidden articulation picture before time runs out. Each new tap pulls the cover off of the articulating picture just a bit, and many many taps will take the cover totally off! So the real question is, do you have the rapid fingers that are necessary for this amazing game of speed?
This speech therapy app features:
A child-friendly interface: simple and intuitive, a wonderful experience from start to finish!
Tons of sound-specific pictures: with just a tap of a finger, children and clinicians can begin to uncover one of over 450 sound-specific stickers!
Loads of giggles: before, during, and after each round, loads of laughter will fill the speech therapy room!
Information:
This speech therapy game was designed for speech-language pathologists to use with individuals who exhibit difficulty producing the following speech sounds: S, Z, R, L, S/R/L Blends, SH, CH, and TH. It is intended to aid in the remediation of articulation impairments, as well as to help increase word recognition and vocabulary expansion because clients often need practice in more than one area of speech and language development. Tap Champion Articulation is intentionally multifunctional!
Traditional speech therapy that focuses on improving articulation abilities can usually get stale and boring, but through Tap Champion Articulation, speech therapy can easily become an enjoyable and friendly competition that strengthens students' attention, concentration, and pronunciation. It is the hope of this speech-language pathologist that by encouraging students to participate in this speech therapy game, they will be able to practice their overall articulation in a way that can lead to fabulous gains toward mastering their speech therapy goals and objectives. Hooray!
The structure of Tap Champion Articulation is a departure from traditional articulation drill work and is effective for students ages 6 and up. With this speech therapy game, clients have a blast challenging their friends and classmates outside of the speech therapy room, further practicing their articulation skills and thereby facilitating the sometimes difficult stage of carrying over newly-acquired skills. By playing Tap Champion Articulation with the client, paraprofessionals in the classroom and/or parents at home can reinforce the client's skills while sharing an entertaining activity. Practicing communication skills in environments outside the speech therapy setting increases opportunities for generalization of communication skills.
Regardless of when, where or how Tap Champion Articulation is used within the speech therapy session, one thing is certain, children (as well as clinicians) will have a blast playing this speech therapy game . . . and in the process, they will continue to practice the correct pronunciation of their sounds at the word level. Do you think you have what it takes to become a TAP CHAMPION?! Let's start tapping to find out!
Screenshots:

Want to be notified when a new blog post goes live? Join my newsletter and I'll let ya know!