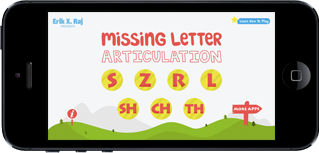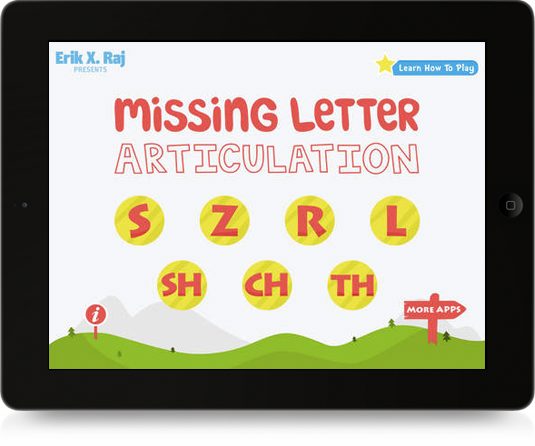 Missing Letter Articulation is an interactive app for your iPad, iPad mini, iPhone, and iPod touch that features over 1,000 sound-specific articulation word puzzles (words that are missing one letter). Your goal with these word puzzles are to figure out which letter is missing before the timer runs out. These word puzzles were designed for speech-language pathologists to use with individuals who exhibit difficulty producing the following speech sounds: S, Z, R, L, S/R/L Blends, SH, CH, and TH.
This fast-paced and exciting speech therapy game features:
Tons of words: with just a tap of a finger, children and clinicians can solve over 1,000 sound specific articulation world puzzles that are perfect for the speech therapy setting.
A tricky timer: the clock starts off slow, but each time you get a point, that timer gets a bit quicker.
A wonderful review screen: after each round, enjoy viewing and reviewing all the articulation words to help strengthen pronunciation.
Child-friendly interface: simple and intuitive, a wonderful experience from start to finish.
Information:
Missing Letter Articulation allows students to act as detectives. Within each round of this game, they are presented with one of their articulation words, but each word is consistently missing one letter! It is up to your students to use their razor sharp focus to figure out which letter is the missing one, but there is the catch – the timer is ticking! Each student only has a few seconds to correctly declare which letter has been omitted. The more word puzzles that a student correctly completes, the more points that a student scores. And as an added bonus, upon completion of each round, a review screen is presented that features all of the articulation words from the round. This review screen could be used as relaxed way to continue to practice proper pronunciation without the timer counting down.
Traditional speech therapy that focuses on improving articulation abilities can usually get stale and boring, but through Missing Letter Articulation, speech therapy can easily become an enjoyable competition that strengthens students' attention, concentration, and pronunciation. It is the hope of this speech-language pathologist that by encouraging students to participate in this speech therapy game, they will be able to practice their overall articulation in a way that can lead to fabulous gains toward mastering their speech therapy goals and objectives. Hooray!
The structure of Missing Letter Articulation is a departure from traditional articulation drill work and is effective for students ages 6 and up. With this speech therapy game, clients have a blast challenging their friends and classmates outside of the speech therapy room, further practicing their articulation skills and thereby facilitating the sometimes difficult stage of carrying over newly-acquired skills. By playing Missing Letter Articulation with the client, paraprofessionals in the classroom and/or parents at home can reinforce the client's skills while sharing an entertaining activity. Practicing communication skills in environments outside the speech therapy setting increases opportunities for generalization of communication skills.
Regardless of when, where or how Missing Letter Articulation is used within the speech therapy session, one thing is certain, children (as well as clinicians) will have a blast playing this speech therapy game . . . and in the process they will continue to practice the correct pronunciation of their sounds at the word level. Let your imagination run wild and have fun!
Screenshots:

Want to be notified when a new blog post goes live? Join my newsletter and I'll let ya know!